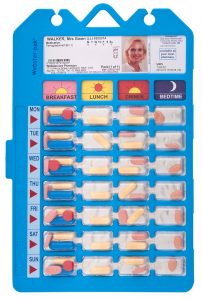 A 'Webster Pack' is a fantastic, easy to use system to help manage your medications, ensuring you take the right medication at the right time.
It contains individually sealed compartments labelled from Monday to Sunday and from Breakfast to Bedtime. These packs are perfect for people who are on more than 3 medications, have trouble with opening medication bottles and packets, people who are having trouble with memory, or simply wanting to take the hassle out of organising medications.
Webster Packing involves a fee of $6.60 per week including delivery. (This offer excludes your usual medication costs).
For more information please come in store and speak to one of our packing staff or a pharmacist.